The buzz for "engagement" continues apace in the media, in government, in business, and in benefits. Less noticed, though perhaps more noteworthy, a cadre of intellectuals, scientists, visionaries and post-allopathic physicians are reshaping the dialog of what constitutes well-being. According to these, there are not just financial, but also moral and evolutionary imperatives to re-map the territory defining both individual and societal well-being.
The Institute for Noetic Sciences, founded 50 years ago by astronaut Edgar Mitchell, released an important book back in 2004: Consciousness and Healing: Integral Approaches to Mind-Body Medicine. In the introduction, noted integral thinker Ken Wilber observed: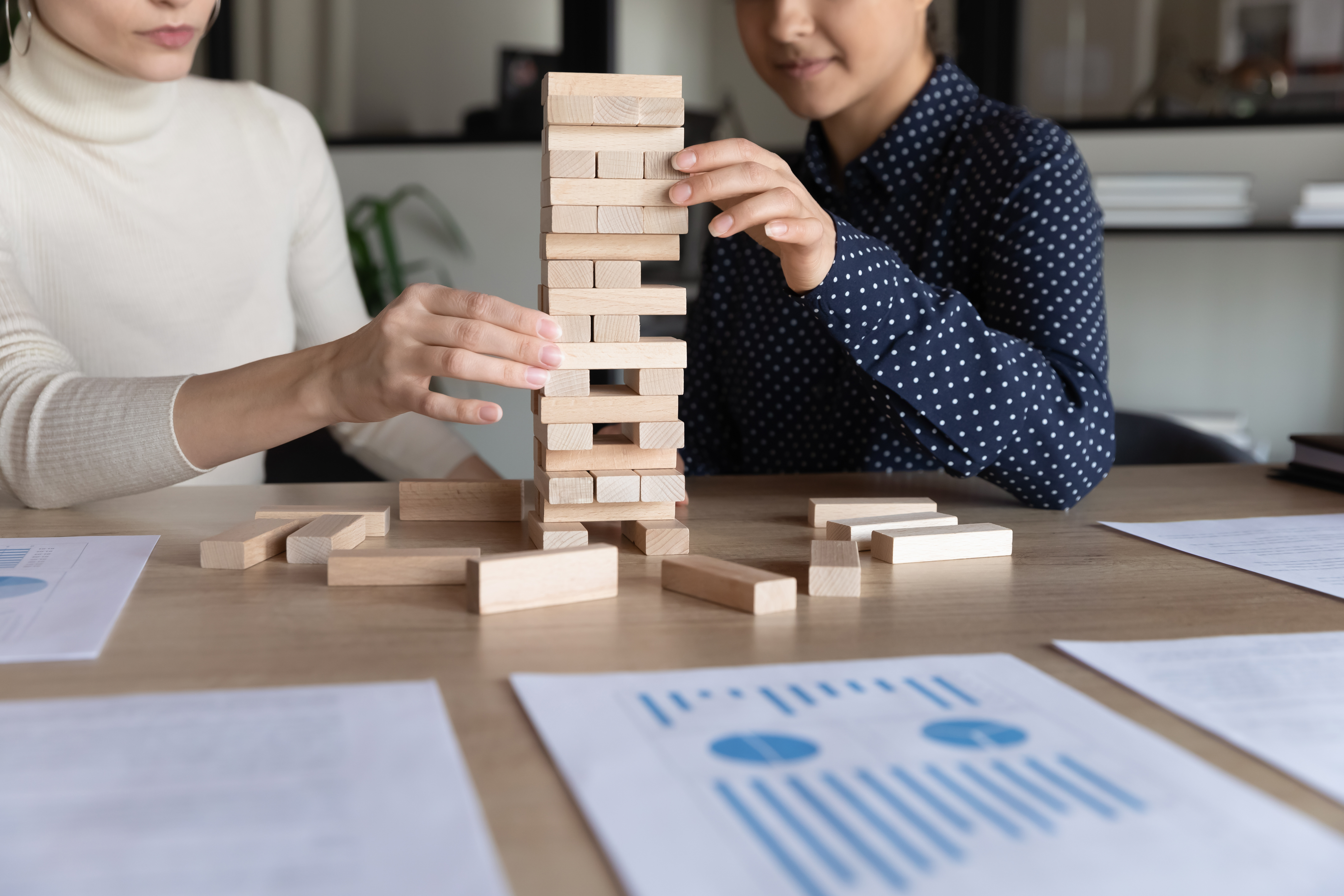 "The crucial ingredient in any integral medical practice is not the integral medical bag itself – with all the conventional pills, and the orthodox surgery, and the subtle energy medicine, and the acupuncture needles – but the holder of the bag. Body and mind and spirit are operating in self, culture, and nature, and thus health and healing, sickness and wholeness, are all bound up in a multidimensional tapestry that cannot be cut into without loss."
Are we there yet?
Around that same time, Marilyn Schlitz wrote: "While science has contributed to our understanding and treatment of disease, it has also served to limit the development of a model in which personal relationships, emotions, meaning, and belief systems are viewed as fundamental points of connection between body, mind, spirit, society, and the environment. For increasing numbers of healthcare consumers and professionals alike, the biomedical model fails to offer a system for understanding the fullness of lived experience – minimizing or negating completely the possibility for human transcendence in the face of illness and disease."
As John Foster Dulles said: "The measure of success is not whether you have a tough problem to deal with, but whether it's the same problem you had last year."
Down here on the ground
The re-envisioning of human health and well-being in more integral – or integrated – terms, has been continuing its arduous journey, despite some fairly significant societal headwinds. And, recognizing the stolidness of the insurance side of the benefits industry, health management and point solution vendors continue to increase their market presence by recognizing the value and the necessity of expanding our views on what it really means to "manage" care.
For too long, managed care was like the parent whose normal response to their child's request was, "No! - now, what did you want?" Such an approach fostered neither trust nor respect. And, with PWC projecting that 2024 health plan cost trend will be about 7% (up from 5.5% in 2022 and 6% in 2023), employees can't be faulted for feeling that cost containment efforts continue to be "accomplished" at their direct expense. The leaky dike hasn't yet been fixed; we're just using more fingers to plug the holes.
Trigger happy
In the trenches, we're still pursuing "population health management," both in the clinical world and the benefits world - like, uh, forever! We're still trying to optimize the utilization of medical resources, the clinical outcome of treatments, and to minimize the costs therefor, all the while promoting and engaging employees in getting healthier and happier – as a group. Yet our approach still tends to be reactive, and only invoked by diagnostic, treatment, and/or pharma triggers.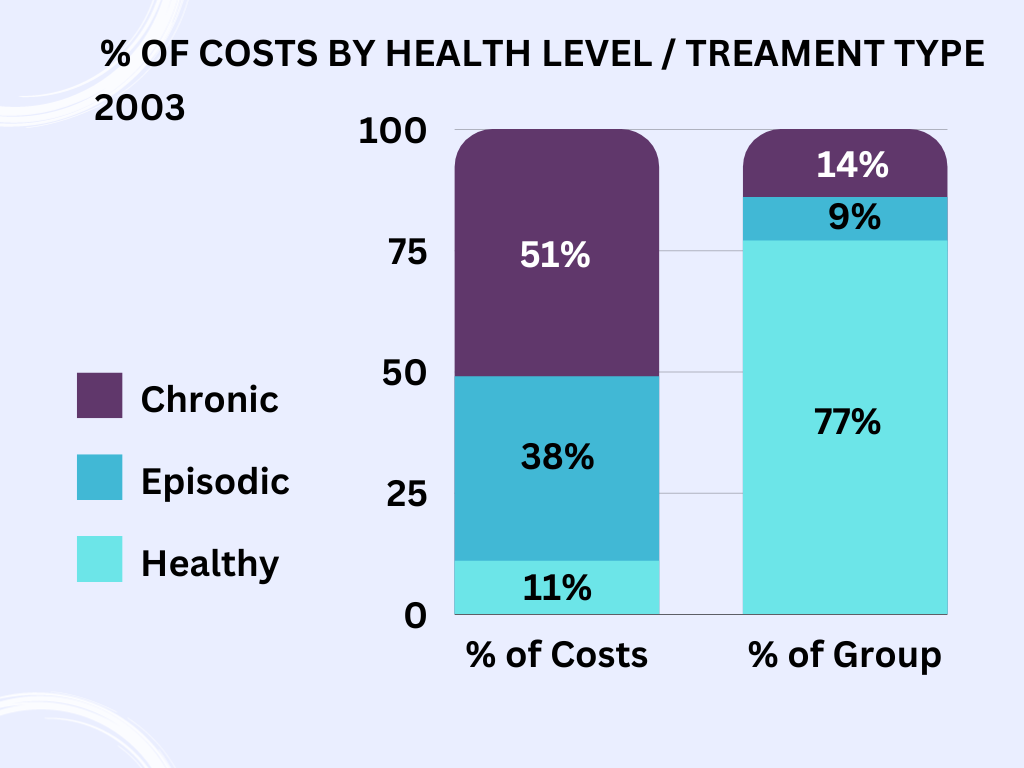 The chart at right shows some stats from 2003, when the chronic population was about 14% of a cross-section of employer groups, but accounted for 51% of total costs. The healthy (~77% of plan members) cohort's share of plan costs was ~11%, and ~38% of plan costs were attributed to episodic claimants (~9% of plan members).
Alarmingly, by 2018, CDC reported that 27.2% of US adults had multiple chronic conditions, and 51.8% had at least 1 chronic condition.
Engagement and participation - still the weakest link
We now know, of course, that better views of health plan activity emerge when claims data, case management / UR data, disease management data, point solution data, and consumer wearables (lifestyle and clinical) data are integrated and analyzed as a whole (holistic) system. Population risks and claims costs can be better stratified, and clinical interventions can be better managed.
The next logical aspect of this broadened view is simple - we have to get more employees engaged in the programs that can help them reduce risks, improve health, eliminate avoidable ER visits and inpatient admissions, and reduce the demand for specialty pharma. We have the business intelligence engines and predictive modelling tools to identify who needs what. But do we have the will to take a hard look at how we're inviting - or not! - our neediest plan members into the incredibly sophisticated and effective programs that have emerged over the past 15 years?
The last word
As society's thought leaders craft a more lofty vision of human well-being, the operational reality at the business and personal levels is also being elevated. Data-supported BenefitPersonas™, Precision Engagement™, and Values-Based Communications™ are the next pieces of the puzzle. After all, if we want to see the whole puzzle picture, all the pieces have to come out of the box.
~ Mark Head
© 2023. All Rights Reserved.


Click the green button or the blue button (below) to visit our scheduling page.